Amazon internationalises its logistics processes

Amazon is internationalising its processes to enable products sold on the platform to be sold anywhere in the world.
Here we go, Amazon is going international in a transparent way this time via its Amazon Global Store programme.
This allows sellers to offer their products worldwide for a reduced fee via Amazon's logistics services. This feature is being tested on the UK platform and is now being rolled out in Europe.
Focus on the functioning of this programme along three axes which are
The Consumer
Marketplace Sellers
The Brands
---
1. The Consumer
How the offer is presented on the platform:
Let's take the example of this Alpina watch: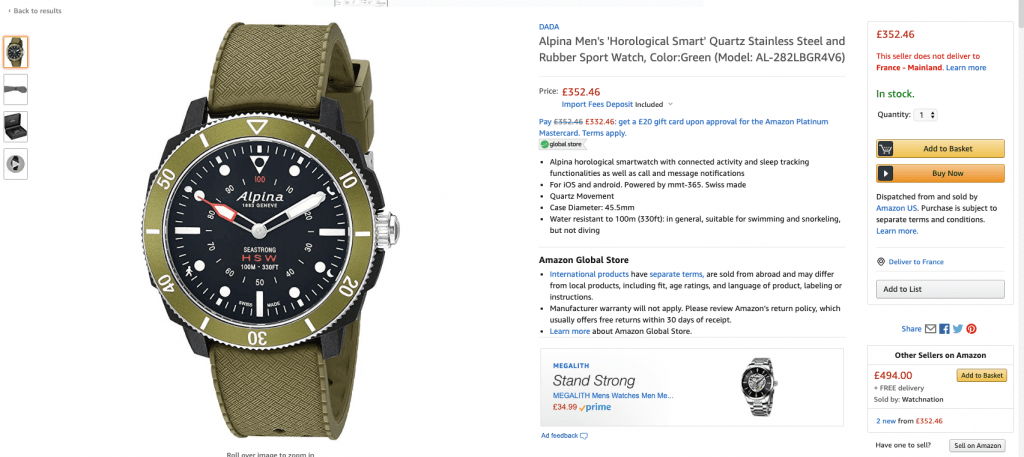 This product is sold by two sellers, one of which is Amazon US via the GLOBAL STORE program
The rules and guarantees are specified as such by Amazon:

Manufacturer warranty will not apply. Please review Amazon's return policy, which usually offers free returns within 30 days of receipt.
Shop Amazon's worldwide selection
Reliable international delivery in as little as 2 business days
Sold and shipped from abroad. All import customs duties and taxes included at the time of purchase
Customer service and returns processed by Amazon.co.uk
Separate terms and conditions of purchase apply
Always serving the consumer better:
Indeed, in order to offer an ever wider range of products and competitive prices, Amazon is doing what no other retail chain, however global, has been able to do before. That is to say, to flatten the pricing rules at a global level.
The consumer then benefits from prices that may be more advantageous anda level of service that is almost equivalent. In this example there is a significant price difference of £136 including delivery.
Note that this is not necessarily the case for all products and that this example does not indicate a trend towards overall price reduction.
---
2. Marketplace Sellers

As for the sellers on the Marketplaces, they are also called upon to offer their products in all countries of the world.
Note that the FBA (Fullfilment by Amazon) programme already allows sellers to store their products in Amazon's warehouses in Europe. This also allows them to benefit from the PRIME programme for their customers through Amazon's logistics system.
The latter have received an e-mail from Amazon in the last few days: See here.
The American giant informs them that they cannow ship their products worldwide via Amazon's logistics services for the same costs as FBA, to more than 80 countries worldwide under the following conditions:
" Customers in 80 countries can buy your products from Amazon
- You can sell books, music, videos, DVDs, and non-media products at the same time
- No additional fees: you only pay the domestic Amazon Shipped costs. Shipping costs are the customer's responsibility
- Amazon ships your orders and handles export, eliminating the complexity, expense and effort of selling internationally
- Shipped by Amazon handles customer service, including returns "
It should also be noted that sellers already in the Amazon FBA programme will automatically be assigned to the International Export programme if no action is taken on their part.
Is this communication to FBA sellers directly related to the Amazon Global Store, which is more about 1P? This is a good question.
In any case, it seems that Amazon has still optimised its logistics process to bring about cheaper and faster international shipping, both for its own use and that of its sellers.
---
3. Brands
From now on, brands and vendors will have to compete against their competitors, and potentially their own subsidiaries, on a global level.
This is done with the well-known brakes and obstacles such as :
Export and import fees and taxes
Changes in exchange rates
Logistical costs inherent in the flow of goods
The legal aspect with the updating of distribution contracts.

For brands already working in 1P, i.e. offering products directly to Amazon, their products will potentially be available in other geographical areas.
---
The opinion of Sellingz
Despite the negative aspect that this imposes from a brand point of view, it should be noted that this forced internationalisation of distribution will push these companies to better optimise their logistical processes as well as their pricing and commercial policies. This, in order to finally create a real brand legitimacy at the global level, while providing consumers with better transparency.
Moreover, as we can see every day, companies need to increase their skills in these areas and must equip themselves with the right tools and processes for this new distribution cycle.
Finally, given the very different legislation in terms of commercial law in different geographical areas, this internationalisation will perhaps allow a rethinking of the rules, giving manufacturers and brands greater legal leverage. This is to combat parallel imports and counterfeiting, for example, which goes hand in hand with facilitating the entry of new players marketing products on foreign markets.

---